We are excited to announce the launch of our brand new website! Anyone who owns or manages a business knows what a monumental task it is to launch a new website that captures everything you want the world to know about your business. We think we nailed it! … we hope you agree.

The Top Fence Company Website in Indiana
Mr Fence is not only one of the top fence companies in Indiana, but we have established ourselves as a leading fence company in the entire United States! Our goal was to create a website that represented the quality of our company.

It took weeks of strategy to develop our plan and many weeks of hard work by the entire team … but we think it was worth it. We believe Mr. Fence now has the top fence company website in Indiana, and one of the best in the entire country.

Do you agree?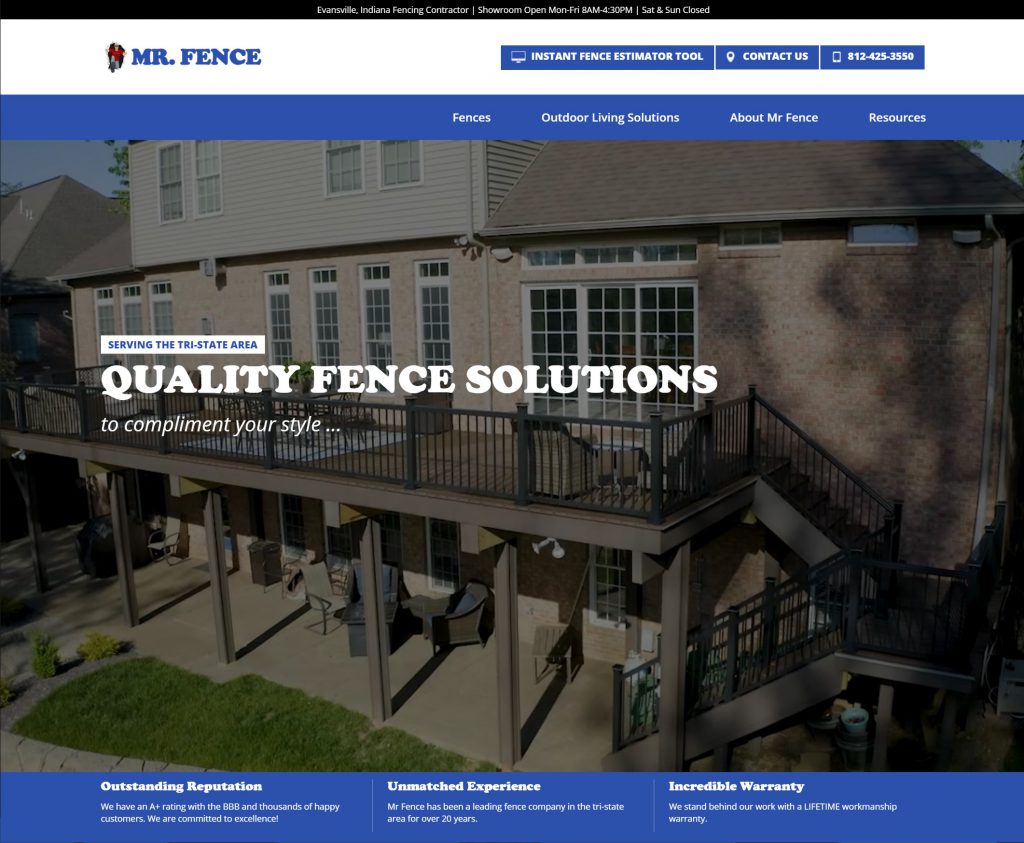 Serving Our Valued Customers In Indiana
The Mr. Fence team spent countless hours attempting to identify the information most requested by our customers and to make sure we were able to provide this in a useful format on our new website.  Our primary driver was to make the fence-buying process easy and efficient for our customers.  Here are some of the goals our team had:

To provide detailed product information about each and every type of fence and style of fence we offer.
To provide useful FAQs about each and every type of fence we sell.
To provide a variety of expert videos, tips, and tricks – relating to every aspect of fencing on every page possible.
To provide valuable resources about our fence warranties, financing, and more.
We were able to achieve all these goals, and more!

The Top Ranked Fence Company Website in Indiana
Before our redesigned website, Mr. Fence was already the top-ranked fence company website on Google for the entire state of Indiana.  Through the hard work of our awesome digital partners DotCom Global Media, we have dominated the Google rankings for nearly every search relating to fencing in Indiana for the past several years.  


With those incredible rankings, it was imperative that we were very careful not to do anything that would upset Google! This was a painful process. Upgrading and updating everything without destroying already market-leading search engine results for the entire state was quite a task!
The Role of Video In Our Website
We included videos on over 90% of our pages.  Video is a priority.  There's a catch though.  The videos MUST be done well.  Like all forms of web content, the video must be useful and interesting, or it will not help your customers.  The needs of our customers always come first at Mr. Fence and the website had to take the same approach.
What's Next For Mr. Fence?
There is always something "brewing" at Mr. Fence.  For now, our next step is a secret.  However, one thing you can be sure of is that our priority is always on our customers.  If you need a fence, a deck, a dock, or a pergola in the state of Indiana (or anywhere in the tri-state area), Mr. Fence is here for you!  Give us a call at: (812) 425-3550.