In the last few years, we have seen an increasing interest in backyard pools and creative fencing ideas. With Covid this interest in creative fencing ideas seems to have accelerated.

In this article, we will explore some of the most creative pool fence ideas we have seen … many of which we have completed ourselves.

If you haven't read our related article from last month about Pool Fences, you may want to start there.
About Pool Fences
It is important to know that each town has its own unique set of ordinances governing the requirements for limiting access to pools. This is true here in Indiana as well as in every other state in the country. Pool fences must meet the local zoning ordinances!

The pool fence ideas below are to help you get your creative juices flowing.  Many of the examples below may not meet your local pool fence codes.  It is important to verify that your final pool fence design is in compliance – or you can face fines and be forced to remove it.

One of the great benefits of working with your local pool fence experts at Mr. Fence is that we will handle all the compliance issues for you! 

The typical regulations as specified by International Code Council are as follow:

The fence must be a minimum of 48 inches tall
The middle horizontal rail must be at least 45 inches above the bottom horizontal rail
The spacing between pickets must be less than 4 inches.
The space between the bottom horizontal rail and the ground must be less than 2 inches.
The gate(s) must be self-closing & self-latching.
The gate(s) need to open outward (away from the pool area).
The operating mechanism of the latch must be at least 54 inches from the bottom of the gate or it shall be on the pool side of the gate at least 3 inches below the top and shall not have any opening greater than 1/2 inch within 18 inches of the release mechanism.
Again, each town in Indiana may have different requirements but the list above should serve as a solid guideline as you plan your pool fence.
Aluminum Pool Fencing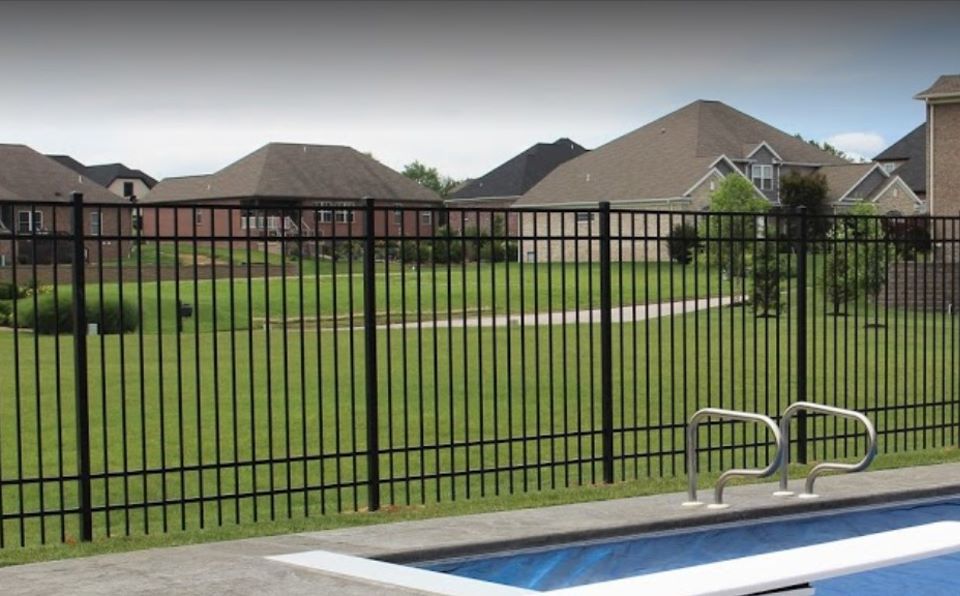 Aluminum fencing is (almost) the perfect pool fencing. Many styles are manufactured to meet even the most stringent of pool codes. Additionally, aluminum doesn't rust and is resistant to chemicals often used in pools. Aluminum gates and hinges are also resistant to rust and corrosion.

The elegant look of aluminum fencing is preferred by many homeowners. Offering a (mostly) unobstructed view of your pool while requiring essentially no maintenance and a simple hosing down when debris begins to collect.

Aluminium pool fencing is used both as a perimeter fence around the entire property and/or as an interior fence surrounding the immediate pool area.

Most of our styles of aluminum pool fencing also come with a lifetime guarantee – making aluminum pool fencing a great choice for homeowners in Indiana.
Vinyl Pool Fencing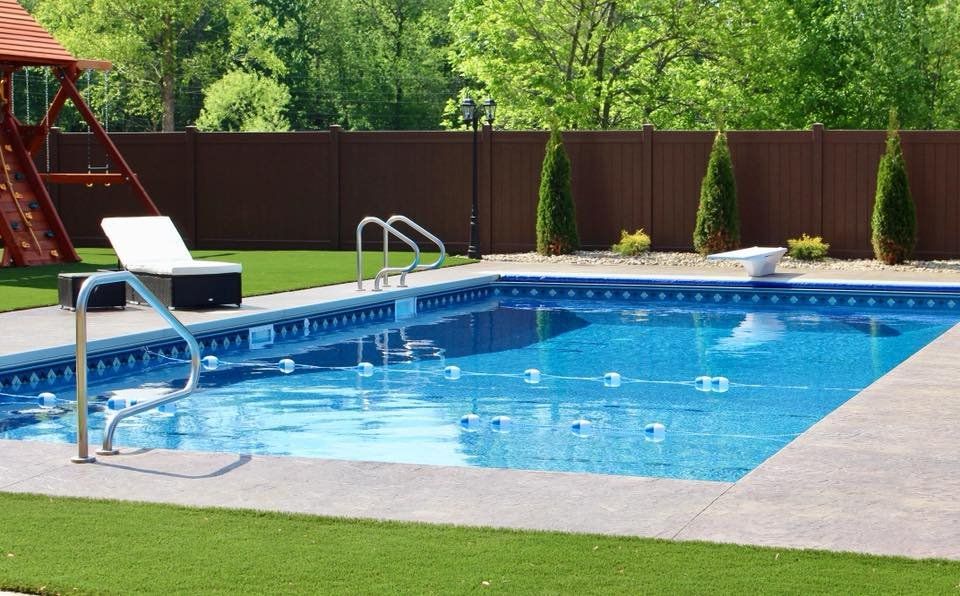 Vinyl pool fencing is most often used as a perimeter fence around the property line. Because it offers great privacy, it is a great choice for many homeowners.

As with all of our vinyl fence options, vinyl pool fencing comes in a wide variety of styles, sizes, colors, and options.  Despite all the options available to you, you can be sure that all of our vinyl pool fence options come with a lifetime manufacturer's warranty.  Vinyl fencing is a perfect maintenance-free way to provide privacy and protection for your pool.

Many homeowners choose to combine vinyl fencing around the perimeter while protecting the immediate pool area with aluminum pool fencing.

However you choose to design your pool area, our pool fence experts are here to help!
Wood Pool Fencing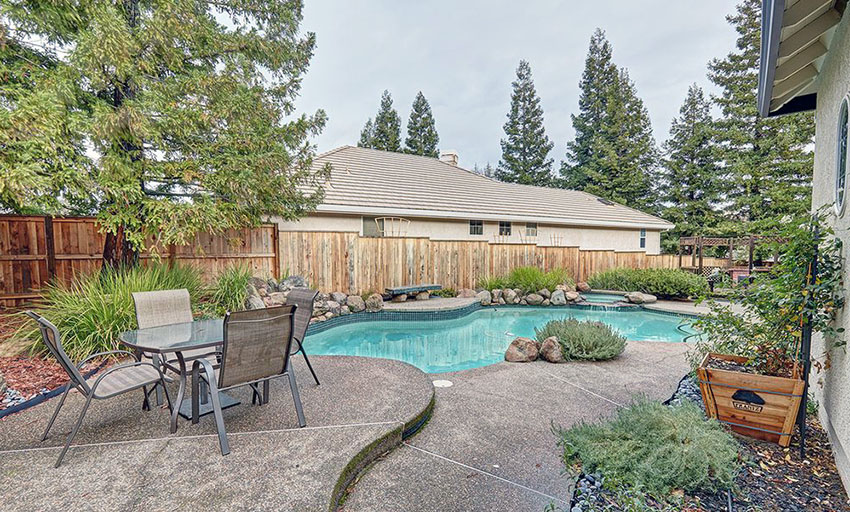 Wood can be a sturdy and attractive choice for fencing around pools. Wood pool fences blend with the natural landscape and many home exteriors as well. Wood slats can look elegant while providing much needed privacy.

Be advised, wood fences require maintenance. We have found that the additional moisture and chemicals associated with pools may accelerate the need for maintenance beyond what is common for wood fences.

When used as a perimeter fence for your yard, wood pool fences make a lot of sense. We have helped many homeowners across Indiana design beautiful backyard sanctuaries with wood fences around the perimeter and aluminum or glass fencing around the immediate pool area for maximum beauty and security.
Glass Pool Fencing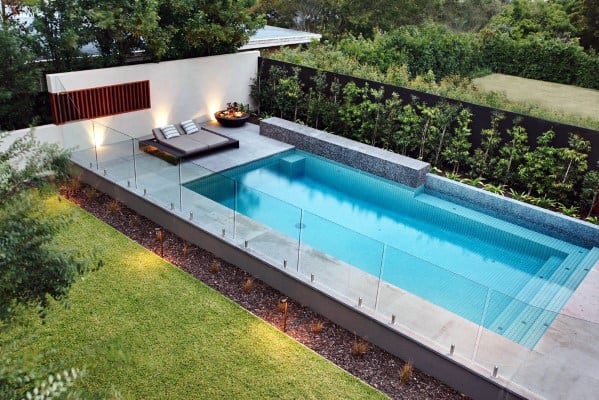 If you are looking for an ultra-modern way to protect your pool, you may want to consider glass pool fencing. Glass pool fencing in used almost exclusively as an interior fence, surrounding the immediate pool area.

Creative Pool Fence Ideas
Here are some of our favorite examples of creative pool fences.  Each of these pool fence ideas can be used just about anywhere in Indiana.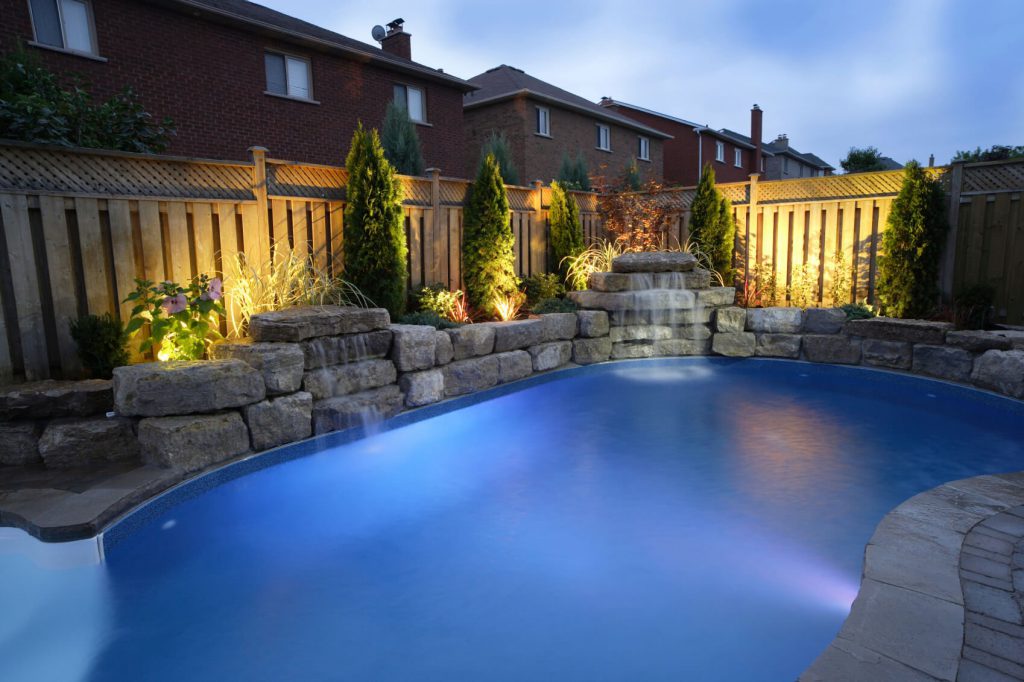 Photo Credit
Some of these photos from were found online at the following sites: www.pinterest.com , www.homestratosphere.com and www.houzz.com
Looking for a Pool Fence in the Evansville, Indiana Area?
Our fence experts can help you design the ultimate pool fence!  Give us a call or contact us, and we'll be happy to answer any questions you may have and to help you design and price out a new pool fence.